A course to help you study smarter.
Enroll Now! $19.99
Successfully preparing for an AP exam comes down to more than just memorizing facts upon facts. 
You have to know precisely what's required of you to achieve your goal score: that is exactly what this course intends to do. Don't make the mistake of studying information that isn't heavily tested. Know exactly what content matters the most so that you can properly navigate your studying. 
Test Prep Expert, Sterling Rosado, guides students through the preparation process by first directing them to the most commonly tested topics. Sterling also provides a basic review of the overarching themes covered in US History and how they connect, information that is necessary for both the multiple choice section and the essay section of the exam. This course also reviews the basics for writing an effective essay, discusses the themes that are often tested in this portion of the exam, and explains how the grading system works so that students know exactly what is expected of them to perform well. 
After completing this course, you'll be able to:
Confidently interpret the visuals and documents that are relevant to the multiple choice, short answer, and DBQ sections. 

Apply important test-taking strategies that will help them work through the exam more confidently and effectively. 

Properly direct their future studying by understanding what major themes and time periods are tested. 

Understand the grading of the essays and what is needed to maximize their score.
What's covered in this course:
Test breakdown by topic and a review of the overarching themes in US History 

Tips for analyzing historical documents and political cartoons with examples. 

Strategies for tackling the multiple choice and short answer questions.

A review of the DBQ and Long Essay. This will include tips for time management, planning, and construction of an effective argument. The rubric and grading will also be reviewed so that students know exactly what is expected of them to achieve full credit.
Course Instructor:
Sterling Rosado
Sterling has been a tutor for over 3 years. He began tutoring as a senior at Cold Spring Harbor High School where he graduated in 2019. He then found his passion for tutoring at Harvard College where he is currently a sophomore working towards a degree in applied mathematics. Currently on a gap year, Sterling is excited about sharing his knowledge to help students perform to the best of their ability and showing them specific strategies that will help them function at a high level in any situation.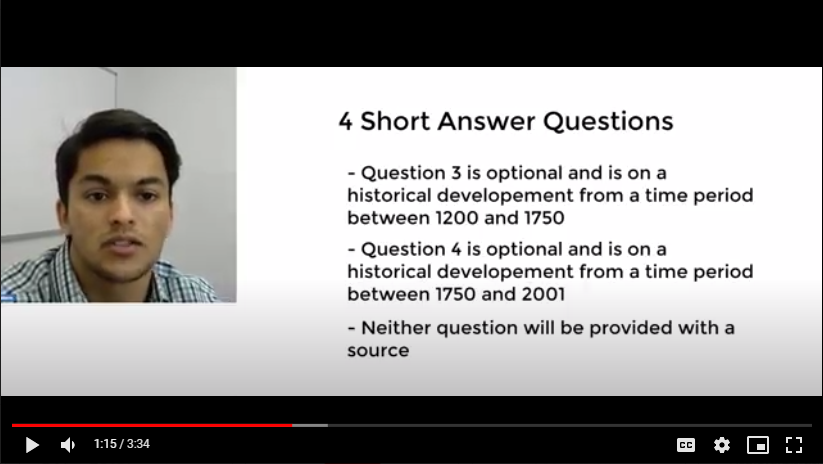 Course Curriculum
Available in days

days after you enroll

Introduction
Available in days

days after you enroll

Instructional Videos
Available in days

days after you enroll

Conclusion
Frequently Asked Questions
Q: What is included in this course?
A: Almost an hour of video instruction developed to teach you the most important test-taking strategies for the AP US History exam. See the outline of the course curriculum above for more information.
Q: Is additional help available for students who need 1-to-1 content review?
A: Check out 1-to-1 AP Tutoring for AP History to book one hour with an AP tutor. To book more time or to view additional services, please reach out to Nick The Tutor's company Curvebreakers to inquire about their private tutoring services at (516) 728-1561 or email.